(Last Updated On: February 21, 2019)
The Easiest Way to Cash Your Hyundai in the Sydney NSW!
If you're considering selling your Hyundai or are simply looking for a cash for car service, you can do so both quickly and easily with nswcarbuyer.com.au.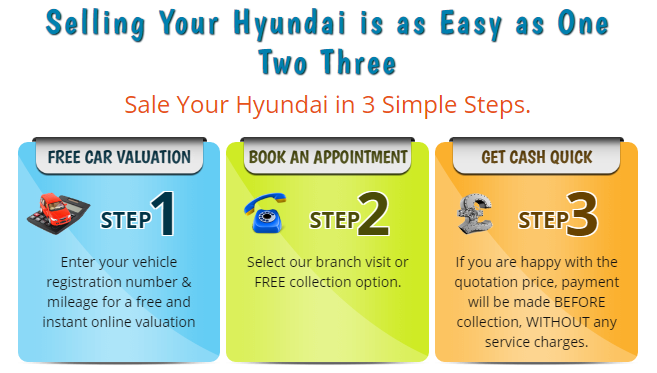 Hyundai is fast growing brand in the Australia, with models, such as the entry-level Accent car and the i30 becoming most popular vehicle on our roads over the last 5 years. Whether you prefer the classic petrol and diesel engines, or the innovative hybrid engines, Hyundai is on top form with each performance type.
If you have one of these models and are considering selling the car for cash, enter your number plate above to get a free and instant online car valuation.
How can I Sell My Hyundai for Cash?
When you're ready to sell your Hyundai, you can sell it much quicker than you may think with NSW CAR BUYER. Follow our quick guide and sell your car the stress-free way. Sell my Hyundai guide:
To begin, receive your free car valuation by entering your Hyundai details into our free quote form.
You could then sell your car the same day, or your valuation will be guaranteed for 10 days so you can take your time to make your next move.
Book an appointment at your local branch. With over 10 branches Australia wide, there should be one convenient to your location.
One of our vehicle purchasers will greet you and value your Hyundai to offer a fair price.
Sell your Hyundai car/SUV and you could receive the cash the same day.
Sell My Hyundai Quick & Easy
When you end your search for a Hyundai cash buyer with us, we will offer you a fair and competitive price for your unwanted Hyundai vehicle, and if you are happy with our price (and we are certain you will be) you could walk away with a check in less than half an hour! We will give you an immediate offer for your Hyundai when you bring it in to one of our convenient locations:
(Sydney, Campbelltown, Blacktown, Penrith, Katoomba, Lithgow, Smithfield, Strathfield, Brookvale, Parramatta…), or you can enter your vehicle's details into our handy online form and get an instant quote online. For a stress free, no obligation quote, contact us today or enter your details now to find out how much you could sell your Hyundai for.
Sell My Hyundai Accent
Sell My Hyundai Elantra
Sell My Hyundai Getz
Sell My Hyundai Santa Fe
Sell My Hyundai Sonata
Sell My Hyundai i30
Sell My Hyundai Tucson
Sell My Hyundai Veloster
Sell My Hyundai Kona
Sell My Hyundai iLoad
Sell My Hyundai ix35
Are You Selling works like this:
If you're serious about selling, we can have cash in your hands in exchange for your Hyundai usually within 24 hours
We have locations right around Australia that you can visit, or we can come to you if it's easier. If you want to get an idea of how much you'll get, simply enquire with us and we'll give you an estimate
As long as it was made from 2000 onwards and has travelled less than 250,000km, we will buy any Hyundai!
Fill out the enquiry form to the right today, or call us on 0401-333-393.